WE PROUDLY OFFER
Lessons
Focused lessons on our schoolmasters or your horse.
Clinics
Clinics are available on our farm or yours.
Sales
See our latest selection of correctly started horses.
Dressage Intensives
Experience dressage immersion in our multiple day training options.
Andrea Velas is a lifelong student of horsemanship and riding.
From an early age, Andrea has brought extraordinary discipline and passion to the goal of developing her riding, training and teaching skills to the highest standards. Today, her passion is shared with her students and in the advancement of horses at all levels.
As a trainer, Andrea has developed both young and older horses at all stages of their training experience through Grand Prix. She has successfully competed at all levels through international CDIs on many horses and is one of the few US riders to have earned all six Gold, Silver, and Bronze USDF Medals and Freestyle Bars. In addition to her own accomplishments, students also enjoy the same competitive success, steadily moving through the levels themselves. Her students praise her ability to efficiently diagnose training issues and provide clear instruction and homework specifically designed to help work on problem areas on their own.
She has also designed and choreographed freestyles for all levels of dressage competition through Grand Prix, as well as Pas de Deux/Quadrille performances, for both herself and students. Most of her freestyles have garnered national year-end placings, as well as winning many championships.
Because Andrea believes dressage to be an excellent foundation, children, young adults and beginners are welcomed as students, as well as riders from other disciplines wishing to improve correct fundamentals. She also teaches a full schedule of clinics, both day clinics locally as well as clinics across the United States and Europe.
USDF GOLD MEDALIST

USDF SILVER MEDALIST

USDF BRONZE MEDALIST

USDF GOLD FREESTYLE BAR

USDF SILVER FREESTYLE BAR

USDF BRONZE FREESTYLE BAR
SALES
All sales horses are in a full training program with Andrea and in most cases are thoroughly vetted with radiographs. Please contact us at (484)-459-9811 or email aksvelas@gmail.com to learn about up and coming prospects that will be available for sale shortly!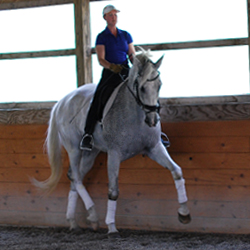 9 year old 17.1 hand Andalusian/Hanoverian gelding, by Excelso out of Galatea, both seasoned Grand Prix horses. Very elegant mover, schooling 4th/PSG with unlimited potential and easy tempi changes. Perfect horse for ambitious amateur to finish to the highest levels.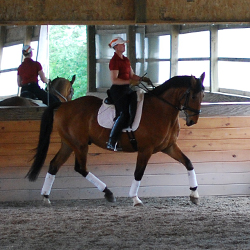 17 year old 17.1+ hand Irish Sport Horse gelding. Used as schoolhorse for last 2 years, extensive experience in competition. Schooling PSG, very comfortable and competitive gaits, light in bridle. No maintenance, a wonderful horse to learn on.
Previous
Next